Jinming Gets "Fast and Furious" with a New Delivery Mode for Blow Film Line

——Delivery within One Week after Order Confirmation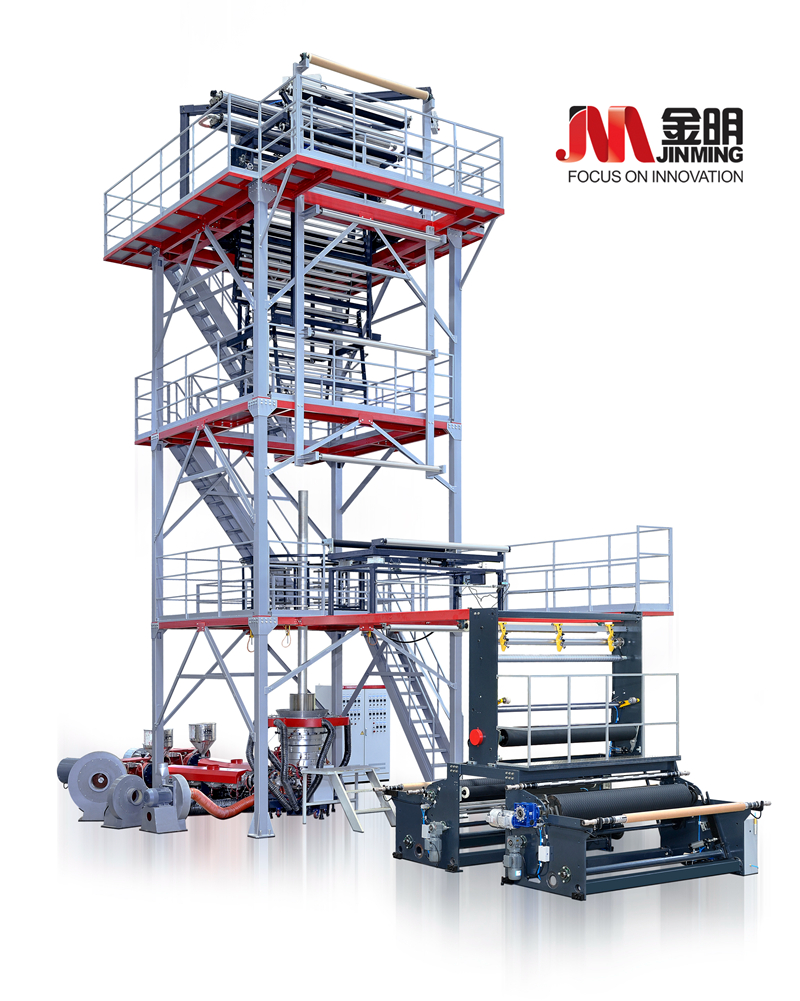 In the plastics machinery industry, compared with other plastics machinery, the multi-layer blown film line becomes one of the plastic machinery products with the longest processing time and delivery cycle due to its huge structure, large number of spare parts, complex assembly processes and other factors. Such a long delivery cycle brings challenges to production of customers' orders and return on investments in equipment, and also restricts the development of the film equipment manufacture industry.

During the manufacture and delivery of multi-layer co-extrusion blown film line, the delivery time for an order is commonly 3 months in the industry; for equipment with special requirements, the delivery period may even be longer than 6 months. In the current efficiency-oriented competitive environment where "the Fast Fish Eat the Slow Fish", the delivery cycle will also put customers into agonizing ordeals from the market. Taking innovation as the driving force for its development, Jinming gradually launched various models in three series (Superex series, Classicx series and Valuex series) in 2014, and then conducted modular design of the Valuex models (referred to as "V" series), which results in both dramatic reduction of production cost and great optimization of production process, thus ensuring shorter delivery cycle and lower equipment investment. Advantages of the Valuex series are as follows.

1. Equipment delivery within 1 week

The core components of Jinming V series are modular equipment. Based on the current market enthusiasm for the product, Jinming makes efforts for better optimization of the production to ensure the products are manufactured and delivered within 1 week after the order contracts are confirmed by customers. Jinming also helps customers organize production within 1 month to increase their return speed and efficiency on investment.

2. Higher cost performance

As Jinming's classic models, the models in V series have an obviously higher cost performance ratio. Compared to similar domestic products, their productivity increases by more than 20%. Since launched in 2014, the models have gained the trust of customers. The optimized production structure and technology design ensures cost control, and Jinming's technological strength ensures the quality of V-series.

3. Better equipment versatility

Jinming V series use the latest low-temperature extrusion system. This technology can effectively reduce energy consumption, and can achieve good machining for such materials as HDPE, LDPE, LLDPE/LDPE, and mLLDPE, thus suitable for production of various films, such as composite films and heat shrinkable films. The equipment is widely used in processing of food packaging films, commodity packaging films and other films.

4. Equipment categories for fast delivery

The models in V series now available for fast delivery include three series, i.e., M3B-1700Q-V, M3B-2000Q-V, and M3B-2300Q-V. If you are interested, please contact 0086-0754-8820 7788 for more details.

Jinming Profile: Jinming (stock code: 300281), established in 1987, is not only a world-famous film equipment manufacturer who integrates development, design, production and sales, but also one of the leading brands that have the strength to provide a full range of film equipment and solutions in the industry. Jinming products cover blown film line, cast film line and stretch film line. By 2014, Jinming had provided thousands of sets of professional equipment and services for users from over 40 countries and regions, which makes Jinming one of the world's largest film equipment manufacturers.